Bolivia, August 2008

Saturday, August 2, 2008 − Off to Bolivia

Well, I have not stayed put long. I am off to Bolivia but only for a month. I will try to keep you posted.





Tuesday, August 5, 2008 − In La Paz
I am now in Bolivia at my friend's mother's home. La Paz is nice as is her mother. I am a little disoriented here, and not just because of the altitude which is making it hard to both breath and think, but because I spent so much time in Asia. I know I am not in the US and I am not in Asia but I do not know where I am. It has similarities to both. Bolivia is very poor, or so I am told, but it doesn't seem poor to me, at least not in relation to Asia. There are few beggars, and street vendors selling gum and pens but not mobs. The streets seem so quiet to me and when I am in a car and they tell me it is rush hour, it confuses me. Their rush hour is off hour in NYC.
I essentially have no Spanish skills. I can speak a little but listening, forget about it. I understand nothing and end up responding by context. It has always worked for me before. Hopefully, it will continue to do so here.
Must run now. My Bolivian mother has made lunch.
Wednesday, August 6, 2008 − Leaving La Paz So Soon
I have been in La Paz for a few days. Got through climatizing to the high altitude. Sat through Independence Day but now I am fleeing La Paz. I have been spending some enjoyable days with my friend's family. I have gone to a few museums which I have to say are exceptionally nice, not like some of the rundown and neglected ones I visited in Asia. I saw good art and the most amazing church ever, San Francisco. I know you are thinking "why doesn't she post some pictures?" Can't. No way to resize them. Maybe soon. But alas, on Sunday there is a referendum and there seems to be no good place to hang or hide. Road blocks and strikes near Copacabana. They hate Americans in Cochabamba. Seems we have been burining down their coca crops. So, off I go to Santa Cruz. I leave tomorrow (Friday). Here I come balmy weather.
Thursday, August 7, 2008 − San Francisco Church La Paz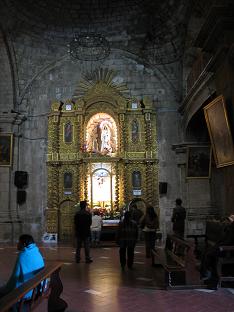 I saw the most amazing church, ever, in La Paz. San Francisco Church. I am not a huge fan of Catholic Churches but this one was outstanding. Really amazing. Check out this picture which doesn´t do it justice.

Friday, August 8, 2008 − Snow at the La Paz Airport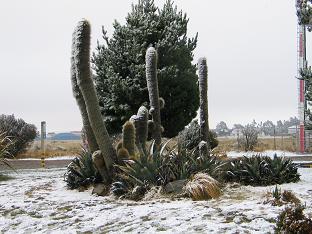 With all the referendum coming up and the road blocks and protests it might bring, I headed to the airport a bit early only to be greeted by snow. Yes, snow. Technically it is winter here in Bolivia but I guess snow is a bit unusual. So, my plane was delayed many hours. Luckily the flight is only an hour so I still arrived at a reasonable hour. Also, I had the most amazing bit of beef for under $7 at the airport restaurant which made the wait not so cruel.
Saturday, August 9, 2008 − Foreign Language Fun
When I landed here in Bolivia, I rapidly came to the conslusion I knew zero Spanish. This started wtih immigration in the La Paz airport, followed byt meeting my friend´s Bolivian mother. I´m in Santa Cruz without the constant supervision of my new Bolivian Family. This morning I managed to eat a saltana, with a coke. I thought she was saying solo but apparently she was saying soda. Not a great interaction but ok. Then I stopped into a small cellphone store because my MF phone decided to ask for a pins and finally a puk code, whatever that is. The lovely women at teh store managed to tell me, in Spanish, that I needed the original card, which was in La Paz, and gave me directions to the main entel office. Did understand 100%? No but maybe 50%. I was quite pleased with myself. I thought back to my visits to all these Asian countries where I knew virtually none of the language. (However, these other countries spoke more English than here in Bolivia, suprisingly). I was very often virtually helpless. So, with my little bit of confidence I set off to the entel office to fix my phone. They essentially told me the same thing that without the card there was no help. I found out there that Bolivians are basically Americans. If it seems teh person understnads even a little keep talking. If they seem to understand nothing, talk more and faster, a little volume helps. Also, act a little disgusted the person could be so stupid as to not understand.
Sunday, August 10, 2008 − Breakfast Beverages in Bolivia
In Thailand there was thai iced tea. In Vietnam, there was Vietnamesse drip coffee with sweetened condensced milk and cafe trung (egg coffee). In India, they have the world famous chai tea. In Bolivia, nada. Well, nothing worth waking up for. I have yet to discover a quality breakfast beverage. The tea is lipton, or something equally bad and the coffee is instant. Why these people get up day after day is beyond me.
Tuesday, August 19, 2008 − Tea Time in Bolivia
Okay, so Bolivia has minus for breakfast beverages but they score 2 pluses for tea time. They have an awesome tea, well not the beverage but the afternoon snack. They have dozens of baked goods that they eat mid afternoon. My favorite is cunapes which are yucca and cheese balls. A little chewy and yummy.
Thursday, August 21, 2008 − Buena Vista
Buena Vista, a day trip from Santa Cruz, Bolivia, is very small and very quiet. I unfortunately arrrived right before siesta so it was very very quiet. Some people in Bolivia recommended it. I can completely understand why they would love it as a quiet retreat from the busyness of Santa Cruz. However, it´s not for me. A bit too quiet.
Thursday, August 21, 2008 − Samaipata
Samaipata was another day trip from Santa Cruz for me. It was supposed to be a couple of hours but the day before it had rained which washed out the roads. It took more than 4 hours to get there. Again, I arrived just before siesta and so the town was shut behind closed doors napping. There is a small foreign community there. I saw a little evidence of it including a number of very dirty hippies.
Thursday, August 21, 2008 − Concepcion
Concepcion is one of the mission towns outside Santa Cruz known for beautiful churches. Originally, I was to take an 8pm bus from Santa Cruz which would leave me in Concepcion at 2am. This was not at all appealing to me. I don´t arrive at 2am. I do not care how small the town is. I ended up finding a bus at 10am that arrived late afternoon. The ride was long, hot and dusty. The town was cute. The church was nice. On my way back to Santa Cruz a few days later, I met three women from Spain who had been robbed at gun point in Concepcion in the wee hours. Glad I am such a chicken and knew that late night bus was not for me.
Thursday, August 21, 2008 − San Javier
Also a mission town, San Javier, is a bit bigger than Concepcion. They have an active market and stores. The day I arrived they had a parade for me. Ok. maybe not for me. Still fun. In the evening, they had a little concert in the church of some traditional european music. A nice suprise.
Friday, August 22, 2008 − Tarija

My favorite place in Bolivia so far is a town Tarija. It is near Argentina and is Bolivias wine country. Who knew. It is a little touristy but for Bolivians mostly. It feels traditional enough. I am learning on this trip that touristy, to me, sucks. The market is great. Lots of places to eat and one whole section of coffee and sopapillas.