Current
Asia 2009 − 2010
Miscellaneous 2008 − 2009
Bolivia, August 2008
India, Oct 2007 − Mar 2008
Vietnam, Apr 2007 − Sept 2007
Thailand, Oct 2006 − Mar 2007
Miscellaneous 2007
Asia 2009 − 2010

Sunday, May 3, 2009 − Hanoi Love It Hate It


Wow, can't believe I am back in Hanoi; so, familiar and yet so foreign to me. I really am going to miss being home where I can chat with everyone and order food anyway I want, well, I do live in NYC so let's say I can chat with most. My little Vietnamese friend, Cuc, picked me up at the airport. That was such a nice treat. After checking into the hotel, I went for a tiny walk, smelled the smells, dodged the scooters, bought some water and that was enough for me. Exhausted, I returned to the hotel, ate a snack and went to bed. It was 9pm. Awake again at 11pm, I took some melatonin and slept again until 3am. This time I was really awake. I read a book and watched the street life. A late night "snack bar" was opening up. This is truly a Vietnam phenomenon − one I truly don't understand. In the evenings, after dark, and in this case in the middle of the night, women set up snack bars: some sodas, snacks, often fruit and seeds. The customers, almost exclusively male and an occasional couple, sit, snack and chat. Honestly, I don't get it. I guess after a few drinks or after work, men stop and get something before heading home. Went back to sleep around 4am and woke after 6am. I stayed up figuring this is close to a normal hour plus I can get some of my favorite street foods at breakfast time. I get rice stuff from an ancient woman who was already ancient 2 years ago but doesn't seem older, older than ancient. Ran into my Xe Om driver (motorcycle taxi) from two years ago. Got his number. Had a Vietnamese coffee, bought a sim for my cellphone, then had another coffee. Got lost, for an hour, kept literally, going around in circles. Never found the lake, Hoan Kiem, which is a central landmark. Had the hotel's business card which after the incident with the Australian man a few years ago, see blog April 5, 2007 entry on http://www.kkoller.com/weblog/CatVietnamIndex.htm, I don't walk around without one which had a tiny partial map. Reminded me of the numerous times this happened to me on my last stay. I met my friend Maritta for lunch, saw what would be my new home for a few months. Then in a feeble attempt to say awake, I walked home from Tay Ho. On this hour long walk in the high afternoon heat, was flooded with thoughts about living in a foreign country without resources, financial and otherwise, and feelings of helplessness in a country I had little hope of ever speaking the language fluently. Frustrated and exhausted I returned to the hotel. OyVey, could I really live here?
Tuesday, May 5, 2009 − Transportation Reality
The reality of living in a foreign country is finally hitting home, in a big bad way. I am trying to determine my mode of transportation. I could buy a bike, or rent a scooter, or use the buses, or use taxis and Xe Oms, motorcycle taxis. I know ultimately I will end up with a combination but what should my primary transportation be? And the logistics are quite overwhelming when one can only say hello, please and thank you. Bicycles are cheap and convenient. People are used to bikes in traffic however 90% of vehicles on the road are scooters and dare I say that they are terrible scooter drivers. They just don't have the fundamentals of road rules. It's not like they know the rules and choose to break them, like in India. That is fine with me because at least then they are watching themselves. But here they just don't understand the basics like if everyone in Florida was driving scooters. Let me give you an example, I am walking across the street. My direction is clear. So I walk. Stopping when there is not enough space to continue forward, and like a good game of frogger, I occasionally have to step back a bit. I come to a point in which there is plenty of space for the next scooter to move around me so I continue but instead of speeding behind me, they clip me off in front. It just doesn't make any sense. It's like these people have never been forced to take a driver's education in High School. (Total sarcasm – of course they have never taken driver's education.) Anyway, back to my original point which is I am trying to decide my mode of transportation. As just determined, the roads here are chaos and very dangerous for scooters. In college I had a moped which I loved and in Thailand I had been known to occasionally drive a scooter but the expat community is filled with accident stories. Of course I can ride the bus which is actually a good system but still it's the bus, slow and crowded, with people barfing. Taxis are not super cheap so it would probably cost me $5-10 a day. Xe oms are about half the price but then again I am on a scooter, in scooter traffic, the only difference between having my own and using a xe om is that they are presumably more experienced drivers. By the way, I have located 2 of my 3 favorite Xe Om drivers. What fun. Instant boyfriends. One of them however, the one already on my blog from before is looking a bit crappy and smelling a bit boozy. See August 1st entry on http://www.kkoller.com/weblog/CatVietnamIndex.htm So, regardless of which mode of transportation I select, there are logistic problems, most of which stem from the problem that I don't speak the language but also things like where do I get gas and park the thing.
Wednesday, May 6, 2009 − Deodorant


You are not going to believe this but my last deodorant lasted more than 2 years which included living in Asia for 18 months. So, when I was preparing to come back I brought only a small travel size. I thought about buying an extra one, specifically an unscented because I thought it might be hard to find that but I didn't because I didn't want to be crazy over-preparer like last time. Of course the first day here, my deodorant fell off the container part. So, I went to get a new one. I figured I would have to go to an upscale type store but what I didn't know was that there are only 2 brands, it's a tiny bit expensive, and hard to find and sometimes even locked in cases. Don't worry people, I got some. This is exactly the type of thing that could drive you crazy when living in abroad: the unpredictability of what you can and cannot get.
Thursday, May 7, 2009 − Hoa Qua Dam



Have I mentioned that I really like Vietnamese food? One of my favorites is the fruit salad type thing called Hoa Qua Dam, chunks of tropical fruits with shaved ice, and coconut milk. Yummy, and a perfect hot weather food. There is even a street in the Old Quarter that has many of these shops that serve it exclusively. I went back to my favorite spot but as I sat there I didn't recognize the workers. In fact, they were really young and looked like prisoners of war. What is going on with that? Many of retail-y type places hire young people but like early 20s/late teens and often it seems like an extended family. These boys seemed wrong and very unhappy. So, next time I went to another place but you know it just wasn't as good.
Friday, May 8, 2009 − Vietnamese Buddha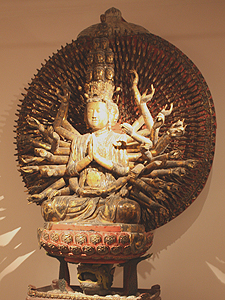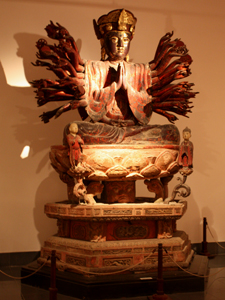 The art museum here in Hanoi is nice, also small and diverse. Some of my favorite things are the Buddhist statues which I think are very unusual. As it turns out they are made in part of lacquer. The statues are unlike anything I have seen before in Thailand, Hong Kong or India and Nepal.
Tuesday, May 12, 2009 − Vietnamese Coffee


Sometimes when I roam the streets, where ever I am, I have magical experiences. Well, perhaps I exaggerate but I do have loads of fun exploring. When I returned to New York City, after being away a year, I would go to free nights at the museums, alone, then window shop at the exclusive stores on Madison Avenue while eating black and white cookies and drinking bodega coffee (oh how my heart aches already.) Well, on this particular day in Hanoi, I ended up wander around West Lake. Saw people fishing. Saw greenery. Stumbled upon a few temples. That particular day, the truly special thing was the coffee. I love the Vietnamese coffee. It is so rich that it's almost chocolaty. Add some sweetened condensed milk and you have ambrosia.

Tuesday, May 19, 2009 − Stupid
I had two interviews today which turned out to be quite far from my house. So, after much back and forth about distance and money. The motorcycle taxi guy and I agreed on 120,000VND roundtrip, which is about $7. It was very far but not in the place I had thought so after my morning appointment it seemed easier to just have him take me to my second appointment which was at 1pm. I would eat something and sit around for awhile. We seemed in agreement. He would pick me up at 14:00 as he wrote with his finger on his hand. Very good. I went to my meeting. Went to the designated meeting point. And I thought I saw him a bit away. So, I waved at him. Happy about the perfect timing. Well, he seems different, a bit aggressive, and I think he has been drinking. Would not be my first experience with a drunken Xe Om driver. We were off. He isn't driving as well. Seems to be very distracted. He takes me to the Old Quarter which could be on my way home. Don't really know why we are stopping. He speaks to me in Vietnamese but I don't know what he is saying, of course. I am so confused. Finally I say home, in Vietnamese, and the neighborhood I live in. So, he seems to get it. He is asking people how to get there which really freaks me out because my motorcycle taxi guy is my neighbor, I thought. Finally we get close enough to my home and I give up, get off and give him 200,000VND about $11. I am surprised that he doesn't argue with me more because all in all it was a very long trip and day. Disgusted with strange stupid drunken man I just go home. Well, hours later, my roommate, whom I rarely see, comes and says there is someone who is there to see me. Ok, so it's 8 at night, dark, who is it? I think maybe it's someone I knew from 2007. I step outside and it's this old Vietnamese man. And he starts to speak, of course I have no idea what he is talking about. My roommate translates that he went to pick me up at 2pm and where was I. HOLYSHIT. The light bulb goes on. I got a ride home with the wrong driver. I am so stupid. Thankfully, the Vietnamese don't have one of those you-think-we-all-look-alike syndromes, but maybe they will now. Well, in my defense, mostly I just saw the back of his head, err helmet actually. No one seems as amused as me. He wasn't saying, you stupid bitch, where is my money. He seems solely upset that I wasn't there. Not that that wasn't bad but really, he should've been there with his hand out. Anyway, I went to get my money and ask how much. He says 170,000VND, hmmm... not bad considering all the distance he and I travelled. So I gave him 250,000VND, about $14 for being such an idiot. He was happy and I repaired my guilt, but not my stupid and humiliated ego.
Wednesday, May 27, 2009 − This How It Happens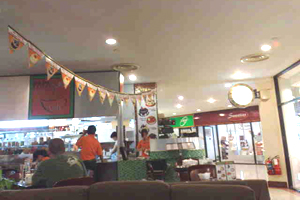 This is how it happens. I set off in the morning to beat the heat but essentially it's already too late. I will run a few errands near each other. Xe om to first location then walk "not too far" to second stop. It's nearby on the map. I walk some. It's hot so I stop for a cold drink, no not a beer. I get directions. I walk some more. I get directions again. I get hassled over and over by taxis and xe om drivers who sometimes pretend they will show me the direction on the map. I walk some more. I finish my water. I stop in at a hotel I could never afford to stay in. I use their bathroom and soak up their air conditioning. Refreshed, I set off again. More walking. Errand complete. Dehydrated, hungry and crabby. Cannot eat street food, too too hot. End up at mall eating western food. This is how it happens.
Friday, June 12, 2009 − Loneliness
I am a little reluctant to write this for fear that I am not sending the right message but I feel that this is totally a part of travel, particularly if you are a 43 year old solo woman who isn't into partying. Also, I am trying to help those of you who are living vicariously through me to get the real feeling of living here. Oh, my glamorous life as an economic refuge. There was a whirlwind of meeting people when I first arrived. Ok, perhaps whirlwind is a bit too dramatic, and way exaggerated, but I made contact with people but that has petered out. One reason is that I have arrived at the start of the hot season and everyone is fleeing. Either they are long term residents taking a few months leave or they are shorter term residents who have decided this is a good season to leave. So already, I know at least 4 people who have or are leaving soon. I have met some fabulous 20 somethings but let's face it, there is no long term friendship there, really just a tolerance. I did meet one man about my age but it turned out that his "friends" were bargirls. The long term residents, not even my housemates, are into befriending the outsiders, short timers. People are cordial, even friendly but they will never invite you anywhere, perhaps this is a hazing period, or just self preservation on their part. Whatever it is, I am alone. My coworkers at the English school are either old bitter alcoholic hasbeens or young partiers passing through, hoping to earn some cash before traveling on. This is a real transition time in Hanoi. I understand that but when I enter the weekend realizing that I have not one single social plan, I feel lonely. I know that sitting home will not help so I will go to the expat cinema but my lonely desperation (isn't that lyrics somewhere) makes me freeze up like a deer in headlights (now that has to be lyrics). I just have to put my Buddhist practice into practice and accept what is, and know that it is impermanent.
Thursday, June 18, 2009 − Dealing with the Asian Dogs
My fear of the dark has been replaced by an almost paralyzing fear of dogs. The dogs here aren't like fiddo at home. The fight dogs in Thailand and India used to keep me awake at night. There are tons of "pet" dogs roaming the streets. The worst of course are the ones just out sit of their own homes. I have struggled with how to deal with them. A Thai friend told me to ignore them and just keep walking. Another friend told me to pick up a stone and through it at them, or even just reach pretend you have one works too. At one point, a friend had a pack of 5 puppies that I watched grow. Gosh they were cute and rancorous. One day as we were sitting outside, I wanted to play with those little devils so I playfully ran at the puppy as if in a game of tag or something. What would a dog in the US do? It would run away and circle around and bark at you in a fun game. What did this puppy in Thailand do? It went squealing away as if I had beaten it with a stick. I felt terrible; I suppose the dog did too. I am guessing a game of fetch might have ended in a similar way. I am not exactly sure when this fear arouse. At one point, a scary mangy crosseyed dog nearly attacked me in Thailand. We were in a stand off and then he charged. I was freaking out until a man came up and chased it away. Actually, freaking out would've been a good thing; screaming and waving my arms would've scared him off. In the US, screaming and waving ones arms at an angry dog would've done nothing but here the dogs have much more experience with be beaten. I have a dog here in the alley where I live in which we were ending up in one of those awful standoffs. I would freeze. It would look at me, hackles would go up, and growl. I needed to get past that dog and that was the only way out. Finally I started to yell and wave my arms and the dog would go squealing away. A few days later, I ran into that dog in a more open area near the alley. It looked at me fearfully and moved away. I was surprised. I am afraid of it. It is afraid of me too? I had a better understanding of the dog's psychology. I even felt bad that this creature felt bad too. That was when I decided to handle that doggie situation differently. So I tried to just ignore it and walk past. Thankfully it worked. I have learned the standoff is the worst position to be in. The other week I went for a walk and wandered into one of the many temples. I was taking pictures through a locked door when I turned to see a dog creeping up on me. I knew it was time to leave . So given my friend's advice, I ignored it and headed to the gate. I didn't want to allow the dog to block my path. Just as I was on the threshold, the dog "attacked" me from behind. I turned and swung my camera at it and an old man called it off a moment later. My heart was pondering. For the next few days, I was totally terrified of dogs even if it gave no indication of being mean. At one point I was wandering the tiny streets looking for a friend's house and there was dog up ahead. I knew I didn't want a stand off so I waited at the end until a young guy came along. I told him I was afraid of the dog so he went ahead and blocked it with his motorbike while I continued on. His kindness was really sweet but nevertheless, my terror was rising. I am still learning but in a nutshell, this is the way to handle Asian dogs:



Avoid the standoff at all costs. Once a standoff is established, more aggression will be needed to end it.

Yell, scream, stomp your feet, wave your arms like a crazy person if you are feeling threatened.

Carry a stick, umbrella or rocks to shake and throw. Pretend if you don't.

Keep a wary eye on the dog at all times but don't act too interested.

If the dog looks menacing, threaten with your "weapons" sooner than later.

Saturday, June 20, 2009 − Floating Garden


When living in high population density places, one has to be creative about space: storage space, living spaces, and open spaces. I have heard that in the Philippines there are people who have made houses that hang off a bridge. In the larger western cities, we have created rooftop gardens. I recently found this floating garden in Hanoi. Fabulous. It reminds me of something out of "Water World" in which they are trying to create terra firma on the water. It was an older couple making this and they were actively working on it while I was there. They were not thrilled with my picture taking. I wished I could speak Vietnamese because I had many questions. What did they grow.? Why were they growing it? To sell or just personal use? Where did they get the idea?
Tuesday, October 20, 2009 − Vietnam in Conclusion
My visa was to expire in a few weeks. I convinced one of my schools to give me a part−time contract. A week before, my visa was to expire, the school told me I would only get a one month visa and after that they didn't know. I had to be out of my room by the end of the month, my one private student was going home for almost 2 months, one class ran only to the end of the month, and the other mid way into November. What was I fighting for? There was very little going on and lots of stuff ending. So, within a day I decided to leave, and within two, I decided to go to Nepal. It's funny how I make decisions. Sometimes, I am very logical and think things carefully through but that hasn't really worked out so well for me, so now I just mull things over. I let a train of thought carry me to some questionable conclusion. I visited Nepal in March of 2008, just over a year and a half ago. I had hoped to open an artist residency program there but that project has been put on the back burner for economic reasons. When I was in Nepal, I met a young woman who was volunteering at a children's home called Umbrella. I visited. It seemed good. You paid room and board, $100 but in the scheme of things that's nothing. So, I sent them email, again. Back in Decemberish, I had a similar thought but they never got back to me until they told me they were expecting me the following week. Oops. Guess they forgot to let me know I could come. It was too short of notice by then and perhaps I had a different idea for that moment. So, I told them no. This time however they sent me email saying they now had an application form and room and board now cost about $250. Well, now that is starting to be real money. But in the meantime, I stumbled across a month long meditation retreat starting in November. (http://www.kopan-monastery.com) So, now I trained my sights on that. My original purpose of going to Nepal was out the window, but I was still going, but now for the retreat. Because of the flight, plus the cost of the retreat, the expense is going to be great. Had I realized that I never would have considered it. Also, if I had still been working, with visa and place to live in Hanoi, I certainly would not be going on retreat. It must be fate. My decision to go to Hanoi was a similar process; Thought occurred to me on a Friday and by Monday I was making my plans.
I realize that many of you perhaps find my life rather exotic, and I probably would too. IF I were not living it. It's a bit terrifying to leave a country with a few thousand dollars in your pocket and that's all you got. I am a woman of modest needs but even still, I spend about $800 a month in Asia, living, not even travelling. So, that few thousand dollars will not last long. It freaks me out when I think about it.
I have been in Hanoi for almost six months. The process of getting there was fairly easy as was my life there. Now, there was the usual adjustment period which caused some angst but it is also during this time when things are really exciting. After a few months, I adjust, life there becomes normal but my interest also wanes. I am sure this is typical. The one thing that did change was that I rented a motorbike. That certainly added some spice to my life. Again, at first it caused stress but later much joy with my new found freedom. In the end, I loved driving motorbike and was sorry to leave it because I knew wherever I went, I would not be driving one again. For the most part, it was super easy to find work teaching English in Hanoi. I hadn't really looked for housing but I don't think that was an issue. There were even hotels that catered to this crowd of long term stayers. I had a group with whom I meditated. I had friends who actually called me to do things. I could even be spontaneous. Call someone on the phone (well sms/text really) and have plans for an hour later. It was my idea of a social life. One week, I even forced myself to not call anyone on my night off because I needed some alone time. It was very difficult to do, especially when you even run into friends on the streets.
I would definitely go back to Hanoi, and I might in a few months. This time I will work like a dog for a few months since I might only get a 3 month visa. Save my money so that when my visa doesn't get renewed. I am foot loose and fancy free.
I realize that many of you perhaps find my life rather exotic, and I probably would too. IF I were not living it. It's a bit terrifying to leave a country with a few thousand dollars in your pocket and that's all you got. I am a woman of modest needs but even still, I spend about $800 a month in Asia, living, not even travelling. So, that few thousand dollars will not last long. It freaks me out when I think about it.
I have been in Hanoi for almost six months. The process of getting there was fairly easy as was my life there. Now, there was the usual adjustment period which caused some angst but it is also during this time when things are really exciting. After a few months, I adjust, life there becomes normal but my interest also wanes. I am sure this is typical. The one thing that did change was that I rented a motorbike. That certainly added some spice to my life. Again, at first it caused stress but later much joy with my new found freedom. In the end, I loved driving motorbike and was sorry to leave it because I knew wherever I went, I would not be driving one again. For the most part, it was super easy to find work teaching English in Hanoi. I hadn't really looked for housing but I don't think that was an issue. There were even hotels that catered to this crowd of long term stayers. I had a group with whom I meditated. I had friends who actually called me to do things. I could even be spontaneous. Call someone on the phone (well sms/text really) and have plans for an hour later. It was my idea of a social life. One week, I even forced myself to not call anyone on my night off because I needed some alone time. It was very difficult to do, especially when you even run into friends on the streets.
I would definitely go back to Hanoi, and I might in a few months. This time I will work like a dog for a few months since I might only get a 3 month visa. Save my money so that when my visa doesn't get renewed. I am foot loose and fancy free.

Thursday, October 22, 2009 − Passing Through Bangkok
In Bangkok Thailand, passing through on my way to Nepal. I could've passed right on through with maybe only a night but I decided to see what little I haven't seen. Maybe hook up with some people I know. Arrived in the afternoon, went to a nearby park for something to do, to get me out of the hotel. Here's the deal. I am not a good tourist. I am not that interested in sights. I don't really want to research the best places to eat, stay or see. I really want to just experience a place. I prefer to finagle meeting people who live in a place. That doesn't usually work out given my personality. So, I then go see the sights as a reason to move about. After a number of trips here, I finally decided I wanted to see the river. I bought one of those tourist tickets, for 120Baht, about $4, which I think may have been a complete waste of money. I think I could've just paid 13Baht per ride on the local boat. I only got on and off a couple of times. Plus, after my initial trip, I never saw another tourist boat again. However, the tourist boat gave me a nice brochure and gave me an introduction to the river. I think if I were to do it again, I still might pay the extra money because I like the unlimited rides but this time I would sit by the tour announcer and ask a bunch of questions.
I am surprisingly tired here in Bangkok. It's not really the heat since I just came from Hanoi, but it could be that all that motorbike riding has made me soft. Regardless, as I was moving from one subway system to another, I found I was a little tired. So I stopped one of the many malls for an iced coffee. I forgot to use the toilet before I left so by the time I reached the boat, I already had to pee. My plan was to ride the boat to the end and hop my way back down. I don't think this was a good plan since I now believe the tourist boat hops up but makes a beeline back. So after just a few stops, I hopped off spontaneously. It was a great area, tons of street food which I followed aimlessly. I thought there was a temple at this stop. As the food stalls gave way, I saw a sign for museum. I do enjoy a small museum, and so I followed the signs also believing that this was the barge museum the older couple I followed off the boat were seeking. I followed the signs in to a humongous hospital complex: Building after building of hospital, clinics, and nursing homes including hospital staff in white uniforms and nurses with the old fashioned hat, like my Barbie had when I was a kid. I thought I would be passing through and on my way to the barge museum, but alas the signs lead me elsewhere, to a medical museum. This little museum, the Siriraj Medical Museum, tucked away down a side street of this medical area, on the second floor of what I assume was a school, made the Mutter Museum in Philedelphia look like a children's museum. There were real mummified bodies, and image after image of mutilated bodies. I was starting to feel queasy, but perhaps that was due to the pervasive industrial glue smell. Small but certainly worth the visit.
After leaving, I wandered back to score some street food. I eat completely willy nilly without concern for intestinal infestations. Hanoi makes Bangkok look clean. I ate some sort of vegetable fried thing and some not delicious melon after heading back to the pier to continue my journey. You know outside of the US and parts of Europe, there is no regard for public safety. On every corner, there is a lawsuit waiting to happen, except they are unheard of. The pier area was attached to the market area by a few planks due to recent flooding. As I sat and dined on my treats in plastic baggies eaten with a skewer, a presumably Thai man came shaking onto the planks, walking with a cane, one leg in a bandage, one hand palsied. He didn't look sturdy, perhaps just released from the hospital. He had a name tag around his neck. He may even be mentally disabled also. To my relief, a well dressed Asian touristy fellow came to his aid. He had a difficult time getting him across the planks and just onto the pier, the man collapsed in perhaps some sort of fit. Difficult to watch. At this point, the crowd for the boat was quite large. The nice man along with boat staff managed to get him to a bench. He cried, and people gave him money. The nice man seemed to be gesturing back from where he came. Was he offering to take him back to the hospital or a taxi ride home? When the non−tourist boat came, I got on to be away from that heart wrenching scene.
I had no destination in mind but thought I would just ride till the end of the line. The day was lightly rainy, and a bit cool on the boat, says the person having spent summer in SE Asia. So, I rode and rode, enjoying the scenery, wondering who lived on the river and why. At the end of the line, Nonthaburi, I got off in masse. They seemed to be setting up for a night market. I walked by this huge building and wondered what was this fabulous building. Walked through the street looking at the many many things to buy. Bangkok is really a shopper's paradise. Then circled back and headed toward the boat. Who do you think I saw ambling along that road? The crying disabled man. He was limping with a cane but certainly looked merry as he practically skipped down the road. I guess they are everywhere. Certainly in Chicago and New York, the reason I hold firmly to my cash.
Back at the pier, I saw a sign for a museum. So off I scampered, it was a tiny little thing in that huge building I was admiring earlier. A museum about Nonthaburi, mostly about the pottery. It was small but very well done including a diorama with miniature digital men loading up a boat.
What a wonderful unplanned day. I guess had I gone with an agenda these tiny museums would've been a letdown but with no expectations at all, these were all such happy surprises.

Saturday, November 14, 2009 − Night Interrupted
Could not take Thamel, the tourist area in Kathmandu so I went to Pokhara, also touristy but more pleasant. Have I mentioned I love my little room in my new hotel? Well, I love my little room in this new building of the Chetrie Sisters. The one problem is that I must share a bathroom. Hell, it's the Chetrie SISTERS so I figure it's going to mostly women. First, it's just me, but two nights ago, a couple moved in, a hetero couple, which means a man, which means I need to check the toilet seat now. I have pretty good sleep in this little room except for being waken in the morning by a screaming kid, a screaming spoiled Nepali kid. What is that about? Doesn't he know he has a lot more misery to come and this temper tantrum will only be the start of a lot of hardships far worse than momma saying no. Toughen up. So, like I was saying the sleep is usually good. It gets quite cold here at night and with a warm comforter I am snug in my bed, even too warm. I have to say I have acclimated to the warm days cool nights quite well. I am rather surprised. These cool nights for me mean great sleep. Since no one was generally here, I have seen a couple of women who have come and gone, it is very quiet. Sometimes I think I am here alone. Well, in the past few days more, different people have arrived. The couple and now a man or two across the hall, luckily, they have their own bathroom. But now, I realize how noisy these stone stairwells can be especially with the doors with only these deadbolts that slide and bang. So, last night I was awoken by my shared bathroom guy, puking. All night long the slide of the deadbolts and the puking. This particularly night there was also funny cow noises but that I could've slept through. The retching and door banging amplified by echo could not be ignored. On the one hand, you feel bad for the poor guy, but on the other hand, I did want him to shut up. He was probably sleeping in between runs but just as I was dozing off, up he would go and wake me. I was hoping that at least he would stop locking his door. No one is going into a puker's room. Finally, I got up and found some earplugs and returned to my restful slumber. Turned out both of them had gotten food poisoning at one of the more upscale restaurants here and had been tag teaming the commode. This explained the lack of whispered "are you ok honey?"
Tuesday, December 15, 2009 − Funny Moments in Nepal
Sometimes you have one of those funny conversations with a friend that leaves you wishing you had or could record it. I was talking to Christina, I called her for her birthday which is tomorrow, but given the fact that I am in a third world country and tomorrow there may be no internet or perhaps power even, I thought I should just do it today cuz I can. I try not to dominate the conversation but sometimes I just have stuff to say, and the other doesn't. So, I started out telling her how I almost burned the house with the gas geyser. A small wall unit water heater is called a geyser (not pronounced like that gushing water spout in Yellowstone Park but like the old guy down the street.) I was fortunate enough to actually have hot water here. I was very excited, and really needed a shower. So, I got up in the morning, leaving extra time for said shower, since, I am in a third world country and I know how these things go. So, the day before the guy showed me how to use it. He merely turned the water on, and it went on, turn the water off the geyser went off. So, I know from experience that past performance is not indicative of future results, so I turned it on to test it out before I got all excited and took off my clothes. FYI the temperature has dropped her so it is cold and there is no heat. It seemed to work fine so I shut it off, and went and got some clean clothes and took mine off. Turned it back on and it started to spew steam, and water, and brown water, so I shut the water off but the geyser didn't go off. I just started to get hotter and hotter, so I turned the water back on, and it spewed steam and crazy crap again. So I turned it off but again it didn't go off. I was starting to get nervous and there was a smell of heated plastic. So I put my clothes back on, and continued to turn the water on and off. Looked for an off button, maybe even an emergency switch. Looked at the gas canister for the nozzle to turn it off but there wasn't one I could identify. The canister was conveniently located right below geyser, which was now heating up and smoking. I went to the hall to see if my upstairs neighbors could be spotted but went back in to monitor geyser. Finally got so nervous I started to go upstairs when a young man came down and I am speaking gibberish I am sure – the geyser, can't turn off, heating up. He came in and poked around and managed to find the turn off on the gas canister and maybe some other buttons. I am not sure he spoke English but was helpful as I stood in my western pajamas of knee length bag shorts and t−shirt. I think this was not appropriate attire for a fire since they, he and his mother, seemed to be averting their eyes. The woman about my age with plenty'o kids told me in spotty English that it was dangerous like somehow I only thought my smoking gas geyser was inconvenient and I exclaimed "I know, I know". They left without fanfare and I was left with a smokey wall and the smell of burnt plastic.
Okay so that wasn't even the funny part of the conversation. My disclaimer is that I was over tired from adjusting to another new country, and hopped up on inhaler for my asthma. So I was describing the apartment to her. The bedrooms are clean because no one uses them but the living room area is apparently a lounge for I am not sure who so that the couch is filthy and there are boogers on the wall above it. Christina is her innocence says something about no tissue handy and I was thinking, it's a third world country these people don't carry tissues but instead out comes "just eat it for godsakes. It's just boogers." It's a third world country; this place is filthy. These people are horking up lougies and wiping their asses with their hands and don't believe in soap. What the hell is a little booger? Well, with keeping with the third world−ness, they were right in it when they smeared the boogers on the wall above the couch, it's just a little booger. It does sort of match the "muddy" finger prints on the wall. (Where did they get the "mud"?) Anyway my little comment about just eat it had me in hysterics because although this thought did not go through the appropriate sensors it was that truth that is so deeply buried that we are not even aware of it until we are exhausted and it comes tumbling out. In a country like this what is a little booger but perhaps a nice snack.

Monday, May 3, 2010 − Political Unrest Thai Style

On a recent holiday weekend in Vietnam, I needed to do a visa run. The visa situation was getting increasingly difficult here so flight back into the country was required. Due to the last minute nature of this trip, Bangkok was the obvious choice, many tickets available although not as cheap as one would expect when going to country for which the US State Department has issued warnings. I had plans to meet up with a few different people, most of which fell through, except for a coffee with a friend with whom I worked more than 10 years ago. Where did they want to meet? At Silom, which had seen plenty of action. So, being a good tourist, I took pictures. The Thai Police seemed to enjoying the photo op as much as myself: taking pictures with their cellphones and happily posing for me. Very cute.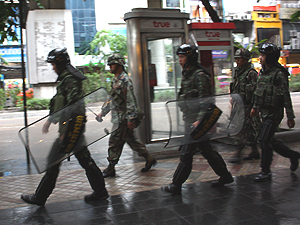 I am absolutely no expert on the situation but this is what I have come to understand. A few years ago when I first visited Thailand they had a bloodless coup in which President Thaskin was ousted for corruption. Since then the Yellow Shirts (anti−Thaskin) have had many protests including one in which they took over and shut down the airport. I have been told that the Yellow Shirts are from the upper classes of Thailand. Traditionally, yellow has been the color they wear to show they love the King. Now, this new activity is by the Red Shirts. These people are Thaskin supporters and want him back. They are rumored to be the poor from the countryside and are being paid nearly double the going daily rate of laborers plus a promise of a few thousand dollars if they succeed. The police were wearing little snippets of pink ribbon to show that they are neither Yellow nor Red Shirts.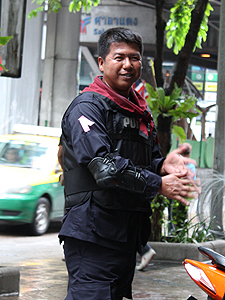 Friday, May 28, 2010 − Cultural Immersion: Tea Lady

Hanoi has a vibrant street culture. A plethora of stores and restaurants flourish inside structures and on the sidewalks. A woman sells fruit from baskets balancing on a pole over her shoulder. Baguettes sold on the street corners. Men, on bicycles and with cases, sell accoutrements for men such as lighter fluid, wallets, and belts. Shoe shiners offer to make your shoes respectable again. The occasional kid sells gum. People are just out. Not to mention the thousands of motorbikes whizzing around. As time passes from morning to night, so shift the businesses. By day, a store is selling goods, but after closing, a street restaurant opens up.
Beside the hectic buzzing of the city, a culture of sitting and relaxing with friends, whether at a formal cafe, or a makeshift one on the sidewalk, also thrives. In the formal cafes coffee prevails, but on the streets it is tea. This is not the formal British high tea or the meditative traditional Asian tea. It is tea for the masses. It is cheap, fast and easy. The furniture is a small plastic table with tiny stools on a patch of sidewalk.
Mostly it is women setting up these little businesses. The tea lady job is not one passed down from generations nor is it held in high esteem. It is a job that people back into because they possibly have no other options. Sometimes they are unable to find a job in a factory or such, but also it is a job women can do with small children. The startup costs are minimal. The profit margin is large. On average they can make about $6 a day which might be more than they would make in a factory. They do not have to travel far, work for a boss, or in a very oppressive environment. As a tea lady, she sets her own schedule, and pace, while socializing with her customers, family and neighbors.
It is difficult to describe the fondness I have for such a thing as tea on the side of the street. Why are the tea stands so near and dear to my heart? For one thing, they are everywhere. They give you a place to sit, relax, and refresh, for just a minute or two, like a little rest stop, albeit without toilets. I remember wondering about these little places on the side of the street on my first visit a few years ago. I fortunately had one right outside where I was staying. So when waiting for someone, I would often sit and have a tea. Years later when I returned to Hanoi to work, I would sometimes find myself early for appointments and would wile away the time by having a tea. I felt that my fellow patrons were, like me, in between appointments. I loved these places. It seemed so civilized to me, to have a place to just recuperate for a few moments. When I stopped, no one hassled me. I just sipped my strong green tea and relaxed. The business is very informal. People sit. No one tries to get you to buy anything. People may even help themselves, particularly to the snacks.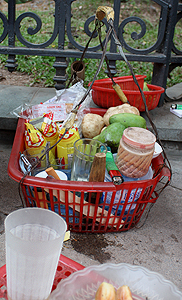 As an artist with a history of performance, it seemed natural to immerse myself in the Vietnamese culture by being a tea lady. On the appointed day I arrived at 5pm. I sat and had tea with Thuy, the tea lady from whom I would rent a setup. We chatted a tiny bit but I really don't speak Vietnamese. I told her a friend would come at 5pm. When my college−student translator arrived I set about learning to be a tea lady right away. Thuy showed me how to make tea in a well−used porcelain teapot, kept hot in a wicker basket with a padded fabric lining and cover. We used hot water from large thermoses and loose green tea in a large clear plastic bag. The makings sat further away from the customers, I think because, if the police arrive, those things would be safe. Tea is served in small glass water glasses, 1,000VND (about 5 cents) or larger, perhaps plastic ones, for iced tea 2,000VND. The iced tea is made from the second run of tea from the pot. The tea is diluted with water in old plastic soda bottles and store-bought ice from a Styrofoam chest is added. There was a small bucket with water and limes to "wash" the glasses. Cigarettes, both loose and by the pack, are available (1,000VND per cigarette) as are lighters to use, usually with a piece of hose on it so as to not be accidentally taken home. A bamboo water pipe is also on hand for those who smoke loose tobacco. At some of these places bottled drinks are available, but Thuy has none. She also doesn't have a table, but instead only a basket with some snacks. Snacks consist of a few packaged cakes and seasonal fruits or vegetables, such as cucumbers, green mango and plums peeled and sliced on the spot, served with ground chili pepper and salt. Gum is also available.
We all sat on little red plastic chairs. Thuy told me how to serve the items and how much to charge. My interpreter was not required but I relied on her heavily anyway. I asked about police and received no definitive answer. They wouldn't come until after 10pm. I don't know why. It isn't exactly legal to sell things on the streets. In the more upscale neighborhoods, this activity is severely curtailed by confiscating the wares. No ticket is given and the items can be reclaimed the next day for a fee which would be less than the replacement value. I made the tea lady and her husband go away but, thankfully, they hovered around the edges. My translator left which made me rely heavily on gestures. The older Vietnamese men wanted to practice whatever foreign languages they spoke in years gone by with me: French, German, English. It was really very nice. One man insisted upon trying to converse with me in Vietnamese. I told him in Vietnamese I did not understand, repeatedly. He persisted. People were super honest and would give me money and explain exactly how much everything was. Two street cleaning women kept coming back for a tea or a smoke. They didn't stay long although it seemed to me that there was no boss present to hassle them. First there was the after work crowd to meet with a friend for a quick tea and chat with friend. Off and on all night the customers came in waves. Some would only do a quick purchase of a few cigarettes to go. Very few stayed for any real length of time which perhaps is testament that I make a very poor tea lady. This experience warmed my heart. The customers were nice, friendly, and helpful probably out of loyalty to Thuy.


Surprisingly very few expats came but the locals did. It seems Thuy has a thriving business of locals. They all came. They had tea and cigarettes. I made 85,000VND ($4.50) for her in about three hours. I suspect that was lower than usual but I don't know. It was fun and a little stressful because I have never been a tea lady before and I don't speak the language. It was great fun though. It was really a positive experience and if I had these types of experiences with these types of people, my view of Vietnamese people would be greatly improved. So I served them, they paid me. It was all fun and games. But it was also hard work to keep up and remember to do all the stuff.
Wednesday, June 2, 2010 − Solo Mototrip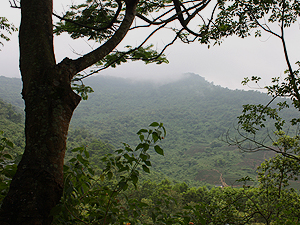 Today was my first ever real solo motorbike trip. I drove to a mountain national park. Except for in Hanoi, it was a pleasant drive and people were nice. A young couple had me follow them because they were going in the same direction. I followed them over a path in the gravel of an incomplete highway, down a brick road (not yellow), and over a suspension bridge (they even paid my toll.) The rest of the road was ... road. After we parted, I asked directions a few times. It was refreshing that these Vietnamese people understood my bad Vietnamese. I guess because it wasn't going through the she−must−be−speaking−English filter. The park was beautiful. Misty, foggy, and empty. I road most of the 14 kilometers up the mountain but turned around figuring I had seen really all I would be able to as the fog thickened and I got chilly. Used the toilet (notice I did not say bathroom or restroom) on my way out of the park and headed home. Stopped for some hot green tea and a snack, twice. Hit Hanoi during rush hour. Ugh. That was poor planning on my part however, what was I to do outside of Hanoi alone until 8pm? As it turned out, I drove for about 5 hours which as a friend who is a seasoned roadtripper warned was too much. My butt, back, arms and shoulders hurt. My eyes burned. Overall it was great. Want to do a long distance trip. Can I?
Friday, June 4, 2010 − Finals Days in Hanoi Part I
After being in Asia, mostly Hanoi, for over a year, I am leaving on Monday to go to Berlin, Germany for the summer. These entry is about my last few days here.
After carrying around a fabulous piece of fabric for literally years, I was going to get pants made from it and get a pair of my favorite pants remade too. I went to "the" place in town and they said nearly $30 each without fabric and 10 days. I didn't have 10 days; didn't want to pay $60. A different place was recommended by a friend. I went and was able to convey my needs in my basic Vietnamese as well as pointing and drawing. Pants would be done on the 6th, no 4th because of my departure day. She was really nice and helpful. On Wednesday, I finally took a long awaited solo motorbike trip, albeit only for the day. It was a great experience and made me realize some of the drawbacks that I would have to address before I hit the road for a longer period of time. I have been making art. When I returned to Hanoi 3 months ago, I promised myself that I would not have any other aspirations other than making money by teaching English. One day while out with a friend we stopped at an art supply store. I bought a pad of watercolor paper and forgot all about my earlier declaration. Well, that had been forgotten anyway, as soon as I started teaching English and was ousted by an adult class and was relegated to teaching little children. I slowly had been working on these pieces which were scattered on my floor but had to be picked up with the lame cleaning woman came on Sunday mornings. Some how I got an urge and inspiration about what these pieces were about. I had been sort of chipping away at it but more images were wanting to be used and I realized the meaning. They are about what I had hoped would happen in Asia this trip, which did not. The series will be called Homage to Hopes and Desires. So, I have been cutting out things, and experimenting and even dying things in tea. It has been a great source of joy. I work on them for maybe an hour at a time multiple times a day. Yesterday, I drove all the way to the old Quarter to have banh gi (spelling? who knows) which is a square sticky rice patty split open with a bit of sandwich like meat stuck inside, and then had a nau da, Vietnamese iced coffee with sweetened condensed milk at my favorite cafe. Went to see an artist friend's artwork and custom printed fabrics. In the evening, I went for bia hoi, with a friend's son and wife. We drank cheap local beer at about 25 cents a glass. I tried to impress them with my knowledge of Vietnamese culture and failed miserably. Ended up ordering the wrong dishes. They are in their late 20s but are super great. Funny, delightful, and unpretentious, obviously not from NYC. Today, downloaded pictures of me being a tea lady from my camera. Tried to download the video too but lacked the right cables. Debated on whether to keep it to tape more interactions with tea ladies but decided it was too big of an overhead. Keep it simple. I have been organizing visits to more tea ladies, and perhaps a gentleman too, thinking it might turn into a book or video project, next time. Last Friday I bought a pack of cigarettes to burn out fishes out of a plastic tablecloth, to use in my art. Well, sadly I have become addicted and have been smoking them ever since. I am now out of cigarettes but want another pack. Like I want a cigarette right now. Went for "lunch" at 11:30am, then for coffee. Wrote some long overdue postcards. Some of them I have been carrying around for nearly a year. Made plans to meet up with a friend to get more pictures from being a tea lady. Went home and decided to work on my art a bit. Ended up losing track of time and left when I should've been arriving. Hung out with him and talked about life. I mean literally about the meaning of life. Left. Now I was hungry so I had banh gio which is rice flour with mushroom and meat in the center cooked in banana leaf. Also saw a new item and had to buy. It was sticky rice shaped in a square brick with pork fat wrapped in a banana leaf. Then I picked up my pants that I paid about ten dollars for two pairs. Initially fearful I forgot to bring enough money. Luckily it was super cheap. So, cheap I didn't even bother to try them on. Left. Went home, worked on art and took a nap-ish. The food here has sooo much MSG that I often times feel like crap after eating. This was one of them. Worked on art some more. Tried to get a hold of people to return things to. No luck. Ate the above mentioned sticky rice thing, with a beer. Worked on more art, now writing.

Saturday, June 5, 2010 − Finals Days in Hanoi Part II
Yesterday, a very busy day. Spent the morning making art and sorting things. Then went to eat and coffee finishing my postcards. Came back to address said cards and found I did not have everyone's address. Went to workplace to pick up pay. The 5th is always payday. Walk in and she tells me she isn't work today. I tell her I am leaving on Monday, shrug and wait. I say I told the dingdong manager. I get my money begrudgingly. I then go to sell books and exchange money. Surprisingly I am able to get Euros. Happy day. Then to the post office where I lay down nearly $20 to mail about 20 cards and letters. Ouch. I am now hungry so I eat a sticky rice thing, perhaps one last time. Off to meet the 20 year old interpreter so we can try to get some stories from tea ladies. We start with my tea lady friend and we get very little. We realize that it is going to be nearly impossible to get anything interesting. Although, we do chit chat with one policeman who finds out I am American and tells about when he was 10 we were bombing Hanoi a lot. So he moved to the countryside and there a bomb struck and killed 34 people. He has a vivid memory of this. He then goes on to tell how Nixon was better than LBJ because his bombing accuracy was better. I have to say these conversations always make me uncomfortable. Turns out the interpreter's grandmother was a tea lady and now her aunt is. So, after drinking tea, eating snacks and chatting we head to see her family. We found out a lot more about the business but did not hear any interesting personal stories. The reason I wanted to do this before I left was because I was wondering if I could comeback and do a story, video, or book on it. As it turns out, I think it will be nearly impossible because it is sooo hard to get to the good story. So, I tried. Then I went to eat Che. Talked to an orchestra conductor from Albany NY who was going to be conducting the Vietnamese symphony at the Opera House. I felt certain it was going to suck. I had tickets to see some Haitian band. It was fun but long and as time went on I could only think about all the things I needed to do. Seats were really inexpensive but it was mostly empty. What a pity.
Thursday, November 25, 2010 − Elephant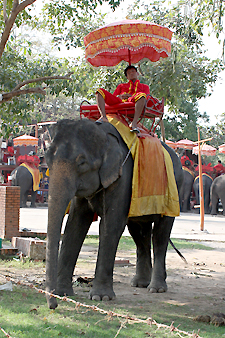 Today a fellow meditator and traveler and I decided to go to a historical town near Bangkok, Ayutthaya. We wandered randomly and happily. As the sun was high in the sky and we were heating up also, we decided to head back to the city when we spotted elephants. You know the ones who are "tame" and give wide-eyed tourists a ride of a lifetime. My new friend was very excited by them and as I had actually seen very very few during my time in Asia, I too was curious to get an up-close look. I hate to admit by I, the cynic, may have even been tempted into taking a ride had my companions exuberance taken that direction. We walked up, around and across to see them. As we approached the grounds of these giant animals with seat strapped to their backs, our attention was drawn to a handler on top of an elephant. He was trying to get it to do something but it was not cooperating. The handler, a young man looking to be 15 but was probably in his 20s, was getting very frustrated very quickly. He pulled out what looked like a blunted pick-ax and whacked the elephant in the middle of its head with resounding thud. And again. And again.



Finally, the elephant passed up his flipflop. The elephant gave a loud retort in anger and they shot off to a nearby area. Again, a loud roar. We did not follow but stood in our own pain, and frustration. We gazed at the rest of the elephants in waiting. All of us, in the hot midday sun. After a few moments to recompose, we continued on our original journey back to the big bad city. This took us back across the new location of that elephant who was now in frustration thumping his trunk on the ground (which surprisingly made the exact sound a plastic tube makes when thumped on the ground) and an occasional roar. Also, she was rubbing her head with her trunk where he hit her with the pickax.