Miscellaneous 2007

Thursday, June 1, 2006 − Background

By a confluents of events, I find I will be without a job, without a husband, without debt or ownership of any kind in 2007. To me, and Janis Joplin, that spells freedom.

Being an artist creating outdoor site-specific sculptures of natural materials, I find that Brooklyn/New York City is not conducive to my work. I have had success at various artist residency so I decided to hit the road. At first I just started to ask people I knew about places feeling that I didn't really have to have an actual artist-residency program but just a place to hang my hat and a plot of land to muck around in. I had some interest but nothing really progressed but I did right off the bat stumble upon a residency in ChangMai Thailand at Ne'- na : Alternative Art Program http://www.kulturserver.de/home/sp/ne-na.htm. They seemed interested in having me come. I was open to any where except I didn't want to stay in the US feeling that there would always be plenty of opportunities here since I wouldn't need such great lengths of time. I continued to ask around, met with some people, sent more emails, sent out a few packets and still nothing. So I started to panic in early spring. I decided I needed to focus my geography so I decided my heart was really in Asia so I blindly sent emails to art faculty in universities in Asia, although I do not remember which ones. One day out of the blue I got an email saying that "Eric" forwarded my email. Which email? Who was Eric? I still am not sure but now I am going to Hanoi Vietnam. http://www.campushanoi.com/. If the people on the website are indicative of the other artists, will I be called mother? or just big sister?

Over the New Year, I had gone on a meditation retreat at IMS in Barre Massachusetts http://www.dharma.org/ims/index.htm. A writer was in our carpool, and she later hooked me up with a residency in India, Kerula - the backwaters http://www.kashiartgallery.com/html/art_retreat.htm. Sounds intriguing like maybe I need a double dose of malaria pills. I wrote and they said great.

So now it is June 1st and I have my schedule set up, for the most part. January through March I will be in ChangMai, Thailand. April Through June, Hanoi, Vietnam will be home. October through December, India will be my studio. I am actually most excited about this last stop since the other two places are in cities while India will be a more natural setting. I hope. You see when you do these things long distance, all you have is hope, and a prayer. My summer months of July, August and September are open. It is deadly hot in SouthEast Asia in the summer so I hesitate to book anything. I have a few options: there is a residency in Bali, Indonesia I could apply to for September. My friend Soo is retiring back to Malaysia, so I could invite myself there or we could go traveling. My old roommate, Agnes, her mother is in Hong Kong so I could go visit her, she did after all stay with us in Chicago for 2 months one summer many years ago.
Agnes and I are also talking about hosting a plein aire art group to Hong Kong with the hope that in 2008 we can do more of them. We discussed it extensively for a few weeks but now it is safely on the back burner.

Currently, I am looking into international banks, and vaccinations. I am also beginning to part with my STUFF. My intent is to sublet my furnished apartment for the year.

I'll keep you "posted"





Thursday, June 8, 2006 − Banking and Pajamas

I have begun my search for a bank that will be in my three major destinations: Chang Mai, Thailand, Hanoi, Vietnam and Kochi, India. Plus, they have to be in NYC. I have my little spreadsheet with all the necessary information for comparison. So far, the possibilities are Citibank, Standard Charter and HSBC. Although I realize ATMs are universal at this point, I don't want to be paying $5 in fees every time I need cash. Debit cards are not protected like credit cards. If someone fraudulently uses my card that money is gone versus a credit card in which I can contest it but I don't pony up the money unless I consent. I wonder if having a savings account connect to my debt card offers any greater safety. Then I can transfer funds from savings to checking, then withdrawal. Of course, another requirement is low/no monthly fees.

I have gotten my letters of invitation for 2 of the 3 residencies. Soon, I can start looking further into visas. This will be another bit of logistics. I need to take into consideration expiration dates for my visas. Ideally I would like to get them all before I leave but I am not sure I can do that. I hope I can because trying to get visas in a foreign country sounds like a nightmare. It is going to be bad enough getting them here and I speak the language.

I went to a clothing swap on Sunday. I thought I had tons and tons of stuff to get rid of then I realized that basically I have tons and tons of garbage. Things that need to be tossed. Not given away.

Pajamas. What does one wear for sleeping in a tropical environment? Nothing is not an option since I will be sharing a living space with strangers. I have a great silk "t-shirt" but I recently realized it is way too warm. So now I've started a hunt for something else. My friend Christina suggested shorts and a tank top. That's a possibility. I want them thin so that is going to mean cheap. American Apparel is always an option for thin but although the quality would suggest cheap the store is not. I am boycotting them on principle anyway. I despise their ad campaign which looks like soft porn. I don't care that they are employees who freely give these images. Is this really the image this company wants to portray? We support our employees but exploit the young women and encourage them to display their bodies in provocative poses. On a different note, I ironically found the perfect pajamas in Chinatown for $12. (Probably cheaper if I wasn't white.) They are 2-piece thin cotton pajamas. The downside is that they are a little girlie ( a little? I mean a lot) for me; Pictures of cute bears and kittens, flowers, pastels and frills adorn. Certainly not me.

That's my progress on the trip. I will keep you posted.





Tuesday, June 13, 2006 − Progress: Pajamas Found!

Progress: Pajamas Found!

On Saturday, while in the Bronx visiting their wonderful zoo, I stopped by one of those really cheap but total rat hole clothing stores. There I found the cheapest pajamas ever. My first find was a long one-size-fits-all night t-shirt for $3 then I continued to look and found a set with calf length pants and matching tee for $3. For a couple of moments I pondered which to buy and then I decided what the heck, I'd splurge and buy both for a whopping $6. And thankfully neither are super cutesy (one has 60s flowers and the other are a blue star/moon theme). I will test them out in the coming summer months and choose then.

I am still looking for the perfect bank, ideally, in all my destinations. I called Chase yesterday. I was told that they were in ChangMai, Thailand. It turned out that no they were not. So, I asked what were the fees to use a non-Chase ATM. $3! Plus 3.5% conversion fee (from usd$ to Thai Baht). Good lord. Am I crazy or are these fees ridiculously high?

I went looking for Standard Chartered as listed on their website. Couldn't find it. It was suppose to be at 23rd and Madison. I sent them email and of course I have heard nothing. It was the same thing with Chase. Why do they have email contacts if no one is going to respond? What is the point?

Did I mention that I have added Citibank to the running? Turns out they are every where. It seems that my choices at this point are Citibank and HSBC but unfortunately neither is in ChangMai. I guess it will come down to ATM and conversion fees. I have recently heard about this cool feature that HSBC has in which you can move money back and forth between any of your accounts, regardless of which bank. That really could come in handy. Plus I think it gets some high interest rate of 4.5% - well high these days.

Still haven't decided of exact departure date. I guess I can go anytime after the 1st of the year but I really don't want to show up on New Year's day. Since I am going home for the holidays, I won't be going before the New Year. I could do another 9-day meditation retreat at IMS but it doesn't end until the 7th or something. It totally would be a great way to start the year but it seems odd to do a retreat in the US before I go to a Buddhist country. Perhaps I can find one there.

Yesterday I ran into my downstairs neighbor, Park. He is moving to Bangkok July 1! Good for me. Now I have a solid contact in Bangkok. It gives me a bit of a piece of mind. I am a little disappointed that he won't be around to teach me Thai or to answer my questions. I guess I can still email him with questions. He didn't invite me to stay nor did he offer his email address but it is still nice to have him to fall back on. I do have a few contacts to friends of friends in Thailand but it is still great to have someone whom I know personally.

Yesterday I edited the letter of invitation and the contract from Ne-na'. Although the English was fine, it is interesting because of the choice of words. I know how this runs, you don't know the word so you look it up in a dictionary. For example, he wrote that they reviewed my materials and they very much appreciate. Well, not exactly wrong but not exactly correct. I was also surpassed by his usage of the phrase "went through" instead of the word reviewed. That was totally correct but it is a phrase that an English speaker would use when talking not one I would think would be listed in a dictionary.

That's all for now. I think I will go to HSBC and ask a few questions.

I'll keep you posted.





Monday, June 26, 2006 − Bank Saga Continues

Bank Saga Continues

As of yesterday, I was going to bite the bullet and pick HSBC. I hate to do endless research. At some point you need to put the baby to bed. The HSBC staff I've talked to in NYC are super nice, HOWEVER, they have given me incorrect information. ( I realize nice in NYC doesn't mean nice in Vietnam but it helps.) Thankfully, I called and found the truth which is that they charge. $1.50 ATM fee for non-HSBC ATMs + 1%transaction fee (and unfortunately, my first stop ChangMai doesn't have HSBC) which is a heck of a lot lower than Chase's $3 + 3.5% conversion fee, which is also not in ChangMai. Basically, I have yet to find a bank that is here and in ChangMai, oddly enough. Anyway, I was all set to go with HSBC when a Christina sent me a nytimes article, "How to Get the Best Exchange Rate (and Avoid Fees)" By DAVID A. KELLY Published: June 25, 2006. Now I'm confused again. Citibank seems to have a pretty good thing going but I am opposed to them for moral reasons (besides the fact that they are another money grubbing multinational banking corporation). When my then boyfriend, later to be husband, then ex-husband and I first moved to NYC we needed to open up a joint checking account. So being the intelligent consumer we want to shop around a bit (not compulsively like I'm doing now - just stop into a few neighborhood branches) . We stopped into Chase and they were nice and gave us answers. We went across the street to Citibank (now mind you this was Astoria almost 10 years ago) and the customer service guy looked right at Kevin (the boyfriend/husband/ex) who is black and said "You need ID and proof of address to open an account". This was even before he said anything. Kevin then asked for information on checking accounts and again the Citibank employee reiterate the need for an ID and proof of address without even providing the requested information. Meanwhile there were other customers with whom he was courteous and not so abrupt and demanding. We then went right back to Chase and opened an account. Maybe that was Chase's new marketing plan - wait and catch the refuges from Citibank. It was as if a black person (man) couldn't possibly a) have the proper identification for an account or b) be shopping around and just requesting information. He was a rude, racist M. F. We should've gone to the branch manager right then and there but although we had been together in Chicago, Upstate New York, and Florida, we were not prepared for the outright racism of NYC. That would come later. So, all these years later, I am not to willing to hop into bed with those racist jerks.

On a more positive note, while skipping my yoga class at Integral Yoga, I stopped into Bed, Bath and Beyond. I found a light weight bath towel for $18. It is the Aquis Microfiber hair and body towel 19"x39". I can't wait to try it. I got the beige. White just seems like I'm begging for nasty. I'll let you know how it works out. Should I wash it before I use it?

One of my latest concerns is immunizations. Everyone says you can just go to any doctor but come on. I live in NYC certainly there is someone here with experience with it. I can look it up on the CDC's website just as well as a doctor can and I actually care if I live or die or worse live for a long time with an incurable illness. I'd like someone who has an idea about infectious disease while traveling. Is that too much to ask? Additionally, I don't have a primary care physician. A few years ago, I was on a mission to find one. I picked a doctor at the Center for Health and Healing which is a clinic that theoretically integrates alternative and western medicine. When I looked at the website I thought Dr. Benjamin Kligler was the only one who took my insurance. So, I selected him in spite of his manhood. I went and saw him. He was fine. Then, a few months later I get a letter stating that he dropped my insurance which is ironic since we both work for Beth Israel Medical Center i.e. we have the same health insurance. So, now I am without a physician, again. I loved the design of the space but there was something not quite right about the staff. I saw on multiple occasions the front desk manager be really unprofessional (down right mean) with both patients and staff. I would've expected a more caring environment from the people who worked there. It was the case. Oops, I digress. So who should I see for the immunizations? Someone at Beth Israel recommended recommended David Perlman who is a "travel doctor" but he no longer does these immunizations. The receptionist recommended another doctor. Should see this guy who I know nothing about? or should I see some other random primary care type doctor? An allergist whom I once considered friend but no longer speaks to me? Or an AIDS doctor whom I went out to dinner with only to find out he was seeing a woman whom I actually knew. Getting healthcare you can trust seems to be a chore in itself.

I did make decision regarding a PDA. Have I written about this? Well it seems my choices are actually few. So, I am going with the Palm Z22 because it's small. I used to have a Sony Clie ( I hate Sony they have the WORST customer service) but I didn't use hardly any of the bells and whistles and it is too big to lug around while traveling.

Well, that's all for now. I'll keep you posted.





Saturday, October 28, 2006 − Daily Routine

I finally have gotten into a daily routine of sorts. I try to get up about 7 am and head into the studio by 8 am. I've been making some more small abstract pieces on paper because I find it enjoyable. I walk around the outdoor space. I do some experiments with materials and some sketches of ideas. At my residency in Hambidge, I had a method to get me started called 99 experiments. It isn't really working here. I think that it played itself out in Georgia. I am trying to think larger scale here. For one thing, I have more open space and Thailand is cheap so I could actually pay to have things fabricated if I wanted.

Usually, I work for a couple of hours until it gets tooo hot (this could be at 11 am). Then I usually am hungry so I walk over to the main road and get an omelet with rice (25 cents). The omelet is basically deep fried which means it tastes really good. I also get "Cha Yin" – Thai iced tea (25-50 cents). I am becoming a connoisseur and an addict of the Thai iced tea. Many places serve them but to be good they have to be made on the street by someone with tea sitting in a can of water all day on a propane flame. All the people along the little strip know me now. They taught me to say cha yin. In the afternoon, I run errands with the people here at Monfai or run my own errands.

Today I road their motor scooter, 100cc. I told them I had one in college: my moped but some how they didn't grasp the idea that it was automatic not manual. So when I asked if I could try to ride it today they handed me the keys without one little instruction: this coming from people who are continually worried about my safety. So, as far as I can tell there is no clutch but it has 2 brakes: one on the handle and the other on the pedal. By the way, they drive on the LEFT. Hey, I managed to not get killed but I have to say that it is a lot heavier than my moped so that dragging my feet to stop is a BAD idea.






Wednesday, November 1, 2006 − Best and Worst things I brought on the trip

Best Things

Dr. Bronner's liquid soap − Used it for laundry, dishes, body, floors, even hair (see below)

Little key chain light given to me at the 11th hour by my friend Ximena − Use many many times at night

Extra tshirts and pants and shoes − usually when I travel I bring 3 tshirts, 2 pants, 7 pairs of underwear, 2 bras and 2 pairs of shoes. This trip I brought 5 t-shirts, 2 pairs of capris, a pair of jeans, many pairs of underwear, 3 bras, light weight sneakers, heavy sneakers and teva sandals. My clothes get dirty here FAST because of heavy sweating and I am just dirty; Slopping food on me and sitting in stuff.

Harry Potter Book 5 − many hours of entertainment for people who can't understand the TV or radio or newspaper.

Jeans − it is ridiculously hot here but I use them when I doing my work out in the field to give me a feeling of protection against creepy crawlers. Suprisingly all the locals wear them.

Zip ties − I use on my luggage for added security and even fix cheap shelves.

New York keychains to give away

US Coins − which are actually way more popular than the keychains

Sharpies − good for marking things

My usual bag/bagpack − use often.

Tiny Bolivian purse (which looks shockingly like the indigenous purses of the Thai Hill tribes)

Tissue packets − not as easy to find here as in Hong Kong


Worst Things

Hair Conditioner − this was an accident. I thought I was buying a tube of shampoo: the perfect size. I was wondering after trying on a couple of occasions to wash my hair why it just wasn't lathering. Then, I read the label. As it turned out I apparently I don't need to wash my hair more than once a week. ;)

Lotion −what was I thinking? I am one oily mess here. Apparently I forgot what it was like to live in Florida.

Bar soap −never dries; it's always mushy.

Envelopes −all of them have self-sealed in the humidity

Sharper image alarm clock −heavy and a little big. Bought it so that if I was afraid I could have it as a night light. Face goes out frequently so time isn't visible. So much for refurbished.

Huge bag of homemade trail mix −started to go stale way to quickly because of the humidity.

Towel that was super absorbent −I was thinking it was quick dry but super absorbent means it is sucking the humidity out of the air and getting funky.

Things I wish I had brought



Tiny pocket knife

More socks (to protect me from the creepy crawlers) although I guess I can't complain since I just bought more for 25 cents a pair.

King size bed sheet − seems as if no one uses them here. Although I can buy them but they seem expensive at $7 each.

Yoga Mat − I thought I could make due with small sticky mats I brought for hands and feet but I realize now that the yoga mat's purpose for me is 2 fold. One is to keep from slipping but the other and maybe more importantly is to protect you from some gross hotel floor.

Saturday, November 11, 2006 − Blink
Because I am living in an environment in which I can't understand the TV, the radio nor most conversations, I have some free time on my hands. To fill those hours, I am trying to read. There are many many book stores here that carry English books. Very nice. I finished the first volume of Harry Potter I brought (book 5). I am waiting on the next one. I don't want to overload on Harry. I couldn't decide what to read next. Often times I like to read local books but I can't read local books cuz I can't read Thai. Also, I don't want to cloud my experience here with someone else's. So after a few trips to the bookstore, I finally settled on "Blink" by Malcolm Gladwell, the author of "The Tipping Point". I loved his first book. "Blink" was pretty good. It did have some interesting bits. Well actually it had many interesting bits, I just didn't feel like it was as tight as the first book. Like maybe he used all his knowledge and good ideas in that one book sort of like when a musician does an album. When the first one is great, the second isn't. Everything was used up in that first album. The years and years of making music poured into the first album and then a year or two of music goes into the second.
Anyway, back to the book. Malcolm talks about how people in the blink of an eye can get a lot of information (thin slicing). He talks about how we analyze a situation in a moment. For examples, he sites a tennis expert, Vic Braden, who can predict double faults. And a researcher, John Gottman, who can predict marital failure. (Who couldn't use that?) He even talks about when thin slicing goes wrong: stereotyping. He talks a lot about the Amadou Diallo shooting as well as racial profiling and everyday sorts of prejudice that's versus ones that end up with someone dead. Harvard has a website in which you can test your own racial bias: https://implicit.harvard.edu/implicit/Study?tid=-1. Gladwell came up as being only having a mild preference towards whites and his mother is from Jamacia i.e. he is half black. There is a chapter on the new process of auditioning musicians behind a screen to prevent biases. To read an interesting account go to: www.osborne-conant.org/ladies.htm. As I flip through the book again to for the details, I am overwhelmed by the number of interesting bits. I really recommend this book: totally interesting easy read.

Friday, January 5, 2007 − Malaysia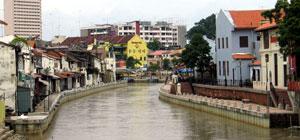 Over the holidays, I needed to leave the country to renew my visa. Now, I could've done a border run like all other farang but that would mean that I couldn't leave Thailand for another 3 months and after Thanksgiving I thought it best to not be around for another holiday celebrated in America. So, I decided to go visit Soo who I knew from New York. She had just retired to a beautiful new home in Malaysia. I flew direct from Chiang Mai to Kuala Lumpur for less than $150. That was good. Chiang Mai was cold; in the 50s, and without proper clothes, heating or insulation. Cold. I stepped off the plane to a blast of heat and humidity. Soo and her cousin, Irene, picked me up. Turns out we were to stay with Irene and her family. That was a bit unexpected. She had a lovely home and I enjoyed her family but I really was expecting to inconvenience anyone but Soo. Irene took us around for a few days.

Beginning that first evening to a theme park called Cowboy Town. That was a total trip. They say a 'picture is worth a thousand words' unfortunately as usual I had no idea where we were going as we dashed out the door. It had an American wild west theme - mostly Native American. Young Malaysian men dressed vaguely to resemble Native Americans (please don't ask me which tribe) did a show with fire and gasoline. Followed by a parade with various animals, more cowboys and Indians, as well as "exotic" dancers from the Ukraine. Totally bizarre hodge podge of themes. May I add at this point that they hadn't researched the old west too well. The audience really seemed to enjoy it. Forgive me but I found myself delighted in spite of the stereotypes, the exploitation of animals and women. It was charming. It was soooo not−disney−low−budget−fun−campiness. I loved it. This show just could not exist in the United States. The political−incorrectness alone would've killed it. But the liability on the fire show and wild animals certainly would've lead to a lawsuit that no one could afford. I felt like such a jaded American, well not after I started to clap along with the rest of the unenlightened crowd.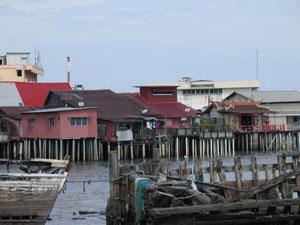 I think the rest of the trip was pale by comparison. We went to Melaka which was an old Portuguese port. Wonderful museums and quaint old streets made this a place I could live. Of course we went to the mandatory Petronus towers which was interest I suppose although we didn't go up. Having lived in NYC, we didn't see the point. Went to Batu Caves which was interesting. It gave me a taste for India where I will go to the end of the year. Saw some kid get attacked by a monkey. He totally deserved it since he was teasing it. We spent a few days in Penang which is like a less desireable Melaka and a few more on a nearby island, Langkawi. Penang had a lot of sites to see, while Langkawi was really just a beach and hiking place. I loved Langkawi. It was peaceful and quiet. I want to go to the beach. I don't really like the beach but I feel I could use the rest. I always feel I could use the rest. I think I started this trip out wrong. I went to the mediation retreat but really I should've spent a month on a beach: So long that I was bored silly and dying to get to work.
Saturday, January 6, 2007 − Exporting Racism
Apparently we are exporting racism to Malaysia. On a number of occasions I heard derogator comments towards black people. At one point, I had met an interesting artist who was starting a residency program in Penang. We were talking for a long time about art, and interests. Then the fatal moment when he actually used the word nigger. I thought my head was going to explode. What the hell. They don't really even have black people there. Where are they getting this from? I think we must be exporting. So, they were our jeans, listen to your music and adopt our racism. Makes sense. I want to know who is making a profit on it.
Sunday, January 7, 2007 − Thailand vs. Malaysia
Although right next to each other, the development of the countries is very different. Malaysia seemed to have a lot more industry going on and certainly more highways. Thailand however has a huge selection of fruits and vegetables that Malaysia seems oddly to lack. Thailand seems to be made of Thai people whereas Malaysia has the three distinctly different populations: the Malays, the Chinese and the Indians. These three groups have not melted but kept their own languages, religions and customs. From what I saw, Thailand also seems to have a lot more poor people. However, the Thai win for number of gas guzzling SUVs. By the way, gas in Thailand is about $3 per gallon. Pretty steep for a country where a good number of people only make $250 per month.
Tuesday, January 16, 2007 − Hong Kong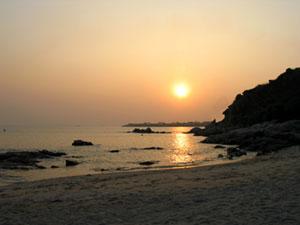 After the New Year, I went to Hong Kong for 10 days. It was great. I really pigged out. I drank cappuccinos everyday thanks to McCafe, McDonalds delicious attempt at going upscale. I had dim sum every morning and bread, cheese and fruit every night. Mmmmmm. I love Hong Kong. I stayed on this cool little island with a ton of friendly expats. I had such a good time. Could I live there someday?


Tuesday, April 17, 2007 − Philippines
My friend from Brooklyn was coincidentally going to be in the Philippines for a few months. She convinced me to join her there after she joined me in Hanoi for a week. Here is review of my activities. We went to Benaue for 2 nights. Christina went on a hike to the rice terraces. I didn't because I was having a stomach thing. I even took some antibiotics. It was an okay town. Really small. Only a couple of restaurants. We stayed at the Greenview Inn. It was a bit of a dump. We stayed in the basement with a shared bath. There was a guide there who was very helpful: Freddie. His English was good, and he was very helpful without being scamming. Great. Although at one point we told him we were going to get a motorcycle taxi (I forgot what they were called there. They were basically a motorcycle with a sidecar.) to go to the couple of local sites and shortly after we were finishing our food at the restaurant next door, a driver mysteriously showed up. How did he know we were in need of a driver? Hmmm… turned out he was a friend of Freddie's.
Then we went to Sagada by jeepney (200 or 250 pesos each - about $4-5). Christina sat on the roof for a while. The ride was not that comfortable. In Sagada, we stayed at another run down hotel called the Igorat inn. It was totally overpriced at $30 per night. The bathroom was in the room but the whole place had a shabby worn-out unloved feel. The walls were paper thin and the first night there was a screaming kid next door. The next two nights there was a snorer. In Sagada, we ran into a woman Christina met while volunteering in the south. Julia. We went into a restaurant that first evening and there was no place to sit. There was a lone woman, so I was going to ask if we could sit there but it turned out that Christina knew here. Small Pilipino world. She was traveling with a group of people. So, for the next few days, we hung out with them. We went to some of the sites with them. That was fun. The sites were fine but not all that. One of them was a site of hanging coffins. That was interesting. The guides will tell you information if you ask them but you have to ask. The deal is that the dead sit in a chair at home for 4-5 days during which time people come to visit. Then the are folded into a fetal position. And carried to the burial site. They are passed from person to person. It is thought to be good luck to get blood of the dead on you. Then they are put into a coffin which will be on the side of the cliff. I am not entirely sure why they do it that way, instead of cremation or burying in the ground, except that the ground is really really rocky. We also went to a cave where they pile coffins. I think basically they just dry out. I guess they must not have any large predators to break into the coffins and eat them.
In the afternoon, we had pizza and shakes at someone's house outside of town. A local potter, Segrit, who knew Julia the peace corp volunteer and an artist friend of hers decided to try to do a restaurant for the weekend as a test to see if they should do a restaurant. The pizza was good (not great) and the shakes were good. We sat outside on woven mats and oversized pillows.
We also went for the Good Friday buffet at St. Joseph Hotel, cooked by the French "chef" in town who also cooks for the Log Cabin. The meal was mediocre at best and cost 300 pesos, about $6. It had an iceberg salad, a soup that was ok but I don't remember what it was. Ok only because they put cheese in the bottom. Cheese for me had been a rare treat in Thailand. There was also overcooked pasta with tomato sauce and chicken. I think there was chop suey. The only other dish I remember was a fish pate that with a pink fruit sauce. Nothing was great, and most was down right bad. Very disappointing. The best part of the meal was a really good chocolate fruit cake.
The next night we went out to the house at the same house they were serving shakes and pizza. They were having dinner for 350 pesos, $7. It was salad with great dressing. A delicious soup. Pizza as a snack. And spaghetti which was really only ok. Dessert was sliced fruit with a topping on it. It was good. . That couple were artists. I knew it from the day before. They had way too much eclectic great taste art to not be artists. He was a painter and she did soft sculptures of people. They were really a wonderful couple.
After Segada, we went to Bagio. It was ok. It is a town of 1 million people. First night we stayed in a hotel downtown called the Buchanan. It was close to the park. The first day it was Easter Sunday so the place was swarming with tourists. We rowed a boat in the little lake with a million other people. Totally fun. Neither Christina nor I could row very well. It was really fun. It was so crowded in the water that everyone was running into everyone else. We were talking to everyone like a big party. People were friendly but all the women were looking at us like we were crazy because we were rowing our own boat. We did have the option of get a rower. Why? Rowing is all the fun.
Bagio also had a really super large market. It was there you could really see the poverty. There were a bunch of kids (and a few old women) looking to sell bags made out of what I would've called seed bags except they had been used for many different things. The kids also were looking to carry our bags. The poverty and desperation of these kids was sincere. They were cute and bit aggressive. The next day we went to check into a new hotel up on the hill and not in the city center. City center was a bit seedy. It had a very unsafe feel to it. I had my fanny pack that came with my backpack over my shoulder. Previously in the day, I had been looping the zipper strings through one another but for reason I hadn't at this point. I felt a tug on my bag and pulled my bag around to find the zipper open and a nice looking young man walking at my side. He immediately stopped at a counter store and I stopped to check my bag. At first we thought my wallet had been stolen but it had not. Thankfully. Maybe because of the good karma I racked up with helping Alan in Hanoi. The hotel turned out to have only double beds. I was totally not crazy about staying there and they totally wouldn't dicker over the price of a larger room with 2 beds. The cost was about 1800 pesos, $38 which is expensive. So, we went to another hotel. The rooms were only a little less and totally a dump. So, we went back to the other place. Still no discount, of course not. We went to Camp John Hay, for memory lane with Christina. It is no longer a US military base. Christina and family used to go there as children for a slice of Americana. They would eat the food, shop at the commissary, and bowl. Christina had fond memories. It turned out the historical part was closed on the day we were there. Too bad. We walked around. Ate American like food. Thought about playing putt-putt but it was starting to rain so we had cups of Pilipino hot chocolate. Then walked up to see the cemetery of negativism which is this fake cemetery with made up people on the tombstones. We went to see their really nice hotel which I think was about $200 per night. Then we went down to see the Buddhist temple, which was closed. So, we went to an internet café and shopped some more in the huge market place. That night we had dinner at the hotel, which was really weird. I had the Juan Something Salad which was a plate of chopped up vegetables including roasted eggplant, onion, tomatoes, salted boiled duck egg, bagoong which is a fishy red condiment, green mango, okra. I used the house dressings which were these weird sweet things. It was really the weirdest salad I have ever had, and not good. Christina had really fatty ox tail soup. The owner's son chatted with us. Nice young guy. He had a bunch of friends there. He bought us a beer and tried to chat up Christina who was not having it. He also sent over a piece of cake called Sans Rival. This had to be the most awesome cake I have ever had. It was flaky, crunchy sort of like a really light angel food and had a very heavy butter cream frosting. Awesome.
After dinner, we started a fire and watched some TV. Turns out the son and friends were having a party and playing poker which meant we were woken up all night long. That was a real bummer.
Next day we got up and went to the bus depot with really great timing we caught a bus immediately. This bus trip was better in the sense that the road was a real road not dirt, not winding through the mountains. We had stops at real bus stops with plenty of food. The scenery was interesting. Not the beautiful rice terraces but instead it was of poverty. It was really really poor. I have never seen anything like it. So very poor but interesting for me too see. Once in Manila, however we slowed to a crawl and I think we ended up 2 hours late. And again we got totally ripped off from the cab. I am used to it but it really makes Christina furious.
Next few days were filled with Carlos' tours of Manila, dinner with Christina's family and new friends, and malls. It was fine. I have no complaints. I was also able to see his "alternative space" called "the livingroom".

Saturday, March 1, 2008 − Off to Kathmandu Nepal

I think there were places to meditate in Bodhgeya there but after a day or two, I still hadn't hooked into it. A met a couple of young-ish American women who invited me to Nepal. I thought sure why not. I wasn't loving Bodgeya. Was this fate knocking at my door? It took us days to travel to Kathmandu. Not an easy trip. We took many trains, buses, and taxis. But once there I really enjoyed it. At first it was blissful. I ate western foods. Had a cheap hotel. Mighty nice but then for some reason the hawkers came out and they were tough. It was there that I was introduced to glue sniffing street kids. They are frightening crazy animal like bunch. One night I was walking down the street in a funk, eating a bit of bakery and a street boy lunged at it. I pushed him. I pushed him. I was mortified at my own behavior. What was I turning into? But then a couple of blocks later I realized that shove did not even faze that kid and I did no harm. Just for the record, he didn't fall.
Saturday, March 15, 2008 − Thanka Painting

One day while walking around the tourist shopping district in Kathmandu, I looked at Thanka paintings, specifically the mandalas. They were so wonderful. I wanted to learn how to make them so I asked the shopkeeper and he ignored the question. The next day I walked by a thanka painting school, which later, I learned were a bit dime a dozen. But with my new−this−has−to−be−fate attitude, I went right in. I wanted to take just a couple of days because honestly, I new I would suck at it and I really am not that interested in it. I ended up paying for $50 for 10 days but getting frustrated and bored and not returning after 4 or 5 days. At this school, the teacher really didn't know anything about mandala painting. They did mostly paintings of Tara, a Buddhist goddess. The paint is similar to gauche, flat, matte, water soluble. The process of doing it was tedious because depth was created by layering. I am not into tedious. It's not just ADD with me either. I attribute this hatred for tediousness from my childhood. No, not my abusive mother. I was sick a lot as a kid, with high fevers and would have dreams. These dreams were repetitive. Like some huge ball of something, hair maybe, sitting on my chest that I would keep adding to and trying to push off or something. It wasn't not a happy dream but a frustrating one. Back to the mandala painting, which is a lot like paint by numbers, my little teacher kept fixing it for me when I would leave. I kept trying to explain that I was just interested in learning and did not care about the final outcome although truth be known I would've been a better student had I been any good at it.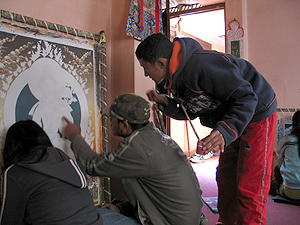 Sunday, March 16, 2008 − Thanka Teacher

I wanted to have a separate entry about my teacher. He was 26 years old. He was tiny. He made me look stocky. Married with 2 kids. He made 6000 Nepali Rupees per month which is about $100. Not a great sum but, I am pretty certain, a living wage. Just to give you an example, I was paying $2 a night for a hotel, which would be $60 month. So his rent must be $25 at the most. In India, I could get a sack of vegetables for $1. I am not saying he is rich but not poor by any means. Initially, I talked to him about classes but he deferred me to the owner of the store, who is entirely another story, perhaps another entry. From the very first class, he told me how much he made and how some Swedish woman came to his house and was shocked how he lived. She sent him $500, which would be like sending an American $8,000. It is quite a chunk of money. By the point at which I met him, I had already been in Asia over a year and so was not shocked by the standard of living. So, honestly, his story fell on deaf ears. Later on he pulled out a cellphone which had all the bells and whistles including recorded video and audio. I suspect that is where the Swedish woman's money went. At first, he never mentioned a wife and kids, which always freaks me out when you find out later. He was not a happy young guy. He didn't like having the responsibility of a wife and kids. He said he got married to please his parents. I am always reluctant to relate these stories because I don't want people to get the only a negative impression. Based on people's reaction to this blog, perhaps these are the only stories I am relating.
Monday, March 17, 2008 − Thanka School Owner

The owner of this school was about my age with 2 college age kids. We sort of bonded being single women of a certain age. I got the impression from her that a business woman was unusual but not rare. Her husband left her and the kids to go to Australia, and she hadn't heard from him in a number of years. She also gave me the impression that this was common in Nepal. I liked her quite a bit but after all my time in Asia, I wasn't certain of her motives. Did she feel a kinship with me because we were similar or because I could be a source of revenue for her? It makes me sad to even think that way but I had a number of disappointing experiences that lead me to be more cautious. I had great admiration for her. Her business seemed good. Her kids were awesome. Nice kids. She took in a country kid but again I am not sure of her motives. Was she helping him, or was he free labor? She said she was going to send him to school but wasn't at the moment.

Tuesday, March 18, 2008 − Job Crushing Rocks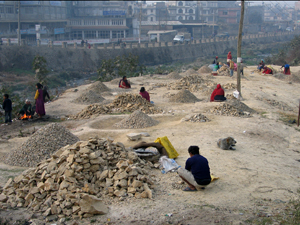 You know, you all complain too much. Check out this job. These people in Nepal, mostly women and children, are crushing rocks. You take a huge rock and keep chip chip chipping away at it until it is the size you want. In the US we have big machines that do this work. I am not sure but I don't think this pays very well either. I don't know about you but I find this mind boggling.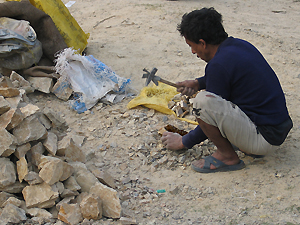 Wednesday, March 19, 2008 − Gas Shortage

Nepal has been experiencing gas shortages. These motorcycles are all in line for petrol.
Friday, March 21, 2008 − Kathmandu Valley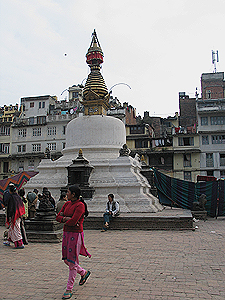 Kathmandu Valley which includes Bhaktapur has unbelievable architecture. Ancient structures with amazing detail. Words will not do it justice so check out these pictures.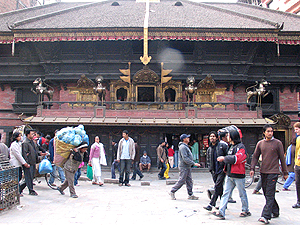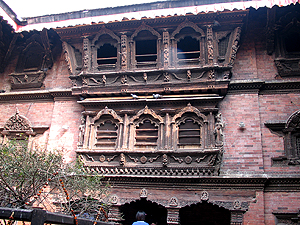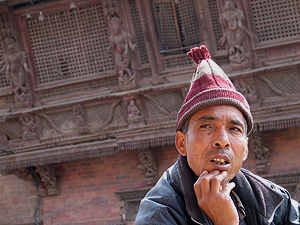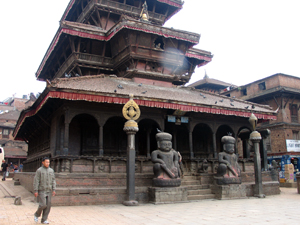 Saturday, March 22, 2008 − Water in Nepal

Have I mentioned that you complain too much? Apparently people in Kathmandu do not have running water in their homes. These people are lined up to fill their containers and carry them home. How much water do these families use a day? How much do I use in a day? Answer: more than I'd want to carry. The cool thing is that these spouts are often shaped like dragons and very beautiful.